ALBUM "LIVE AT WACKEN 2018"
Written by Twining on 11 juin 2019
Le WACKEN OPEN AIR, l'un des plus gros festivals de Heavy Metal du monde va prochainement célébrer sa 29 éme édition. Comme à l'accoutumé depuis 2002, le festival a annoncé la sorti de son album live best of de l'édition 2018 : "LIVE AT WACKEN 2018, 29 YEARS LOUDER THAN HELL", le 26 juillet prochain.
Dans cette 16 ème épisode de la série LIVE AT WACKEN, vous retrouverez des groupes phares tels que SEPULTURA, ENSLAVED, DORO, NIGHTWISH ou HELLOWEEN, dans un double DVD/CD de 33 titres !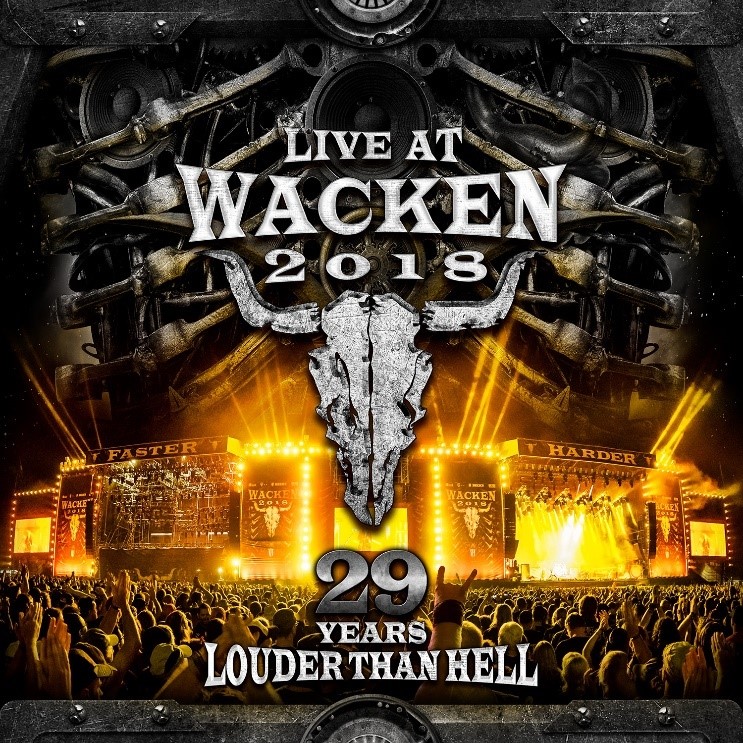 Tracklist :
DVD1/CD1:
SEPULTURA – Kairos
SEPULTURA – Sworn Oath
STIFF LITTLE FINGERS – My Dark Places
AN THEOS – Alean (2019 Single) *
DIRKSCHNEIDER – Metal Heart
DIE FROM SORROW – Die From Sorrow *
KORPIKLAANI – Henkselipoika
KORPIKLAANI – Metsämies
WALKING DEAD ON BROADWAY – Song of Courage
SCHANDMAUL – Bunt und nicht braun
SCHANDMAUL – Pakt
DORO – I Rule The Ruins
NIGHTWISH – Ghost Love Score
CLAWFINGER – The Price We Pay
BLUES PILLS – High Class Woman
RUNNING WILD – Port Royal
MANTAR – Cross The Cross
*Seulement disponible sur le DVD
DVD2/CD2:
SOEN – Opal
RIOT V – Thundersteel
RIOT V – Angel's Thunder, Devil's Reign
KNORKATOR – Der ultimative Mann
KNORKATOR – Buchstabe
NIGHT DEMON – Heavy Metal Heat
LONG DISTANCE CALLING – Trauma
STEEL PANTHER – Poontang Boomerang
ENSIFERUM – For Those About to Fight for Metal
HELMET – I Love My Guru
ENSLAVED – Sacred Horse
ENSLAVED – Allfadr Odinn *
BONFIRE – Ready 4 Reaction
ZEAL & ARDOR – We Can't Be Found
IN EXTREMO – Sternhagelvoll
HELLOWEEN – Pumpkins United
*Seulement disponible sur le DVD
Nous vous rappelons que l'édition 2019 se tiendra du 1er au 3 août prochain et affiche, évidemment, complet. Vous pourrez toujours suivre les actus et concerts sur la WackenTV du site officiel du festival. En attendant, rien ne vous empêche de croiser les doigts pour espérer obtenir un pass pour le trentième anniversaire de du célèbre festival qui aura lieu l'an prochain. Nul doute qu'elle saura apporter son lot de surprise et qu'il faudra être au rendez vous pour les découvrir en live !
---
Reader's opinions
---