A l'approche de la sortie du nouvel album de POWERWOLF , nouvel album qui porte le titre de " The Sacrament Of Sin " , un premier clip vidéo viens d'être mis en ligne sur le titre " Demons Are A Girl's Best Friend " .
Le voici :
****
****
En plus de la sortie de son nouvel album The Sacrament Of Sin cet été,
POWERWOLF vient d'annoncer que les éditions limitées du nouvel album seront agrémentées d'un album reprise intitulé " Communio Lupatum " et d'un album orchestral.
Voici ci dessous la pochette et le track listing de l'album de reprise " Communio Lupatum " .
L'album réunit plusieurs groupes de la scène Metal qui ont tous repris une chanson de POWERWOLF !
" Communio Lupatum " listing track :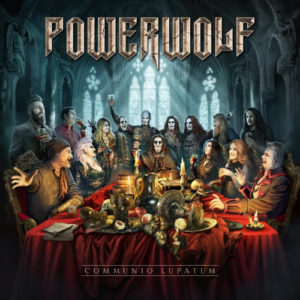 1. Sacred & Wild – Epica
2. We Drink Your Blood – Saltatio Mortis
3. Kiss Of The Cobra King – Caliban
4. Resurrection By Erection – Battle Beast
5. Night Of The Werewolves – Heaven Shall Burn
6. The Evil Made Me Do It – Kadavar
7. Let There Be Night – Kissin' Dynamite
8. Amen & Attack – Mille Petrozza (Kreator) & Marc Görtz (Caliban)
9. Army Of The Night – Amaranthe
10. Nata vimpi cvrmi da / Ira Sancti (When the Saints Are Going Wild) – Eluveitie