VOODOO SIX : nouvel album à la rentrée !
Written by Sidney65 on 1 août 2017
Les Anglais de VOODOO SIX reviennent avec un quatrième album studio, 'Make Way For The King', prévu via Cadiz Music pour le 8 septembre prochain. Des éditions exclusives seront disponibles via www.pledgemusic.com/voodoosix, et quiconque pré-commandera son album via PledgeMusic recevra, avant la sortie de l'album, un Radio Edit exclusif du titre 'Make Way For The King'.
'Make Way For The King' compte douze nouveaux titres. Il a été enregistré à Los Angeles en 2017 et il est produit par Tom Fletcher [Suicidal Tendencies, Ozzy, Steve Lukather, Yes, Jeff Beck, Scorpions, Toto, Malmsteen].
'Make Way For The King' sera le premier album enregistré avec le nouveau chanteur Nik Taylor-Stoakes, pour un album de Hard Rock moderne avec du blues sous-jacent entrecoupé de riffs assassins.
Tony Newton, membre fondateur du groupe, affirme que ce nouveau disque est un nouveau départ pour le groupe : "C'était le bon moment pour revenir. Nous sommes extrêmement fiers de ces nouveaux morceaux et avons hâte de faire découvrir 'Make Way For The King' au public, que ce soit chez eux ou sur scène !"
Voodoo Six est aujourd'hui composé de Nik Taylor-Stoakes (chant), Matt Pearce (guitare), Craig Price (guitare), Tony Newton (basse) et Joe Lazarus (batterie).
Ce nouvel album prouve une fois de plus pourquoi le groupe a réussi, depuis sa création en 2003, à rassembler autour de lui une communauté de plus en plus forte : malgré quelques obstacle, Voodoo Six montre avec 'Make Way For The King' qu'il est toujours là, prêt à prendre place sur le trône du rock'n'roll !
Et voici le Track Listing de "Make Way For The King"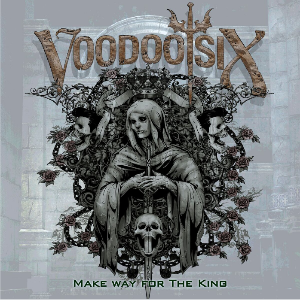 01. Electric
02. Make Way For The King
03. Let Me Walk
04. Falling Apart
05. Riot / Amen
06. Until The End
07. Release The Hounds
08. The Choking
09. Walk A Mile
Et en bonus le clip du titre de l'album " Make Way For The King "
---
Reader's opinions
---