ALESTORM : Les pirates du Heavy Metal sont de retour avec un nouvel album !
Written by Sidney65 on 1 juin 2017
Les incontournables pirates du Heavy Metal ALESTORM sont de retour, et ils amènent avec eux leur cinquième album : "No Grave But The Sea" !
Fermez les yeux et laissez couler le son de cette machine internationale. Aucun autre groupe de la galaxie ne peut créer des hymnes aussi modernes, symphoniques, folk et Metal à la fois, avec des accroches sans fin qui resteront gravés dans votre tête jusqu'à la fin des temps. Ou selon Alestorm eux-mêmes… "Des chansons stupides sur des soirées arrosées et sur des trésors volés".
Mélange de guitares torrides, de solos de claviers, de Metal foudroyant , de riffs modernes et soutenus, "No Grave But The Sea" n'est rien de moins que l'album parfait pour la bataille la plus épique de votre vie. "Une vie de pirate est simple : on boit, on vole et on tue !".
Alors, levez votre verre à ce nouveau trésor des pirates du Metal !
Et ce trésor porte le nom de " No Grave But The Sea " ; il est disponible depuis le 26 Mai grâce au label Napalm Records .
Tracklist :
01. No Grave But The Sea
02. Mexico
03. To the End of the World
04. Alestorm
05. Bar und Imbiss
06. Fucked with an Anchor
07. Pegleg Potion
08. Man the Pumps
09. Rage of the Pentahook
10. Treasure Island
A noter que ALESTORM sera au Hellfest le 16 Juin et entamera une tournée Européenne dès le mois de Septembre , tournée qui passera par la France ( notamment à Toulouse le 9 octobre au Bikini 😉 )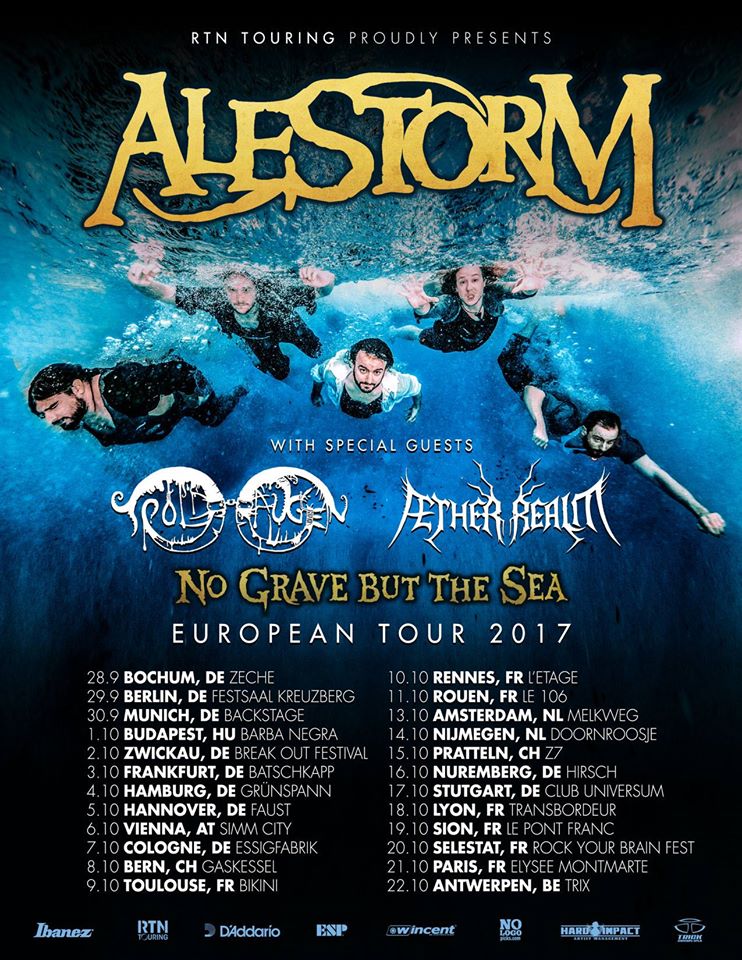 ---
Reader's opinions
---
Continue reading